To Buy Hyaluronic Acid Dermal Filler Can Be Used By Hyaluronic Pen
| | |
| --- | --- |
| Tipo de Pago: | T/T,Money Gram,Western Union |
| Terms of Trade: | FOB |
| Cantidad de pedido mínima: | 2 Piece/Pieces |
| Plazo de entrega: | 5 días |

| | |
| --- | --- |
| Paquete: | Prefilled syringe in 1ml, 2ml with 2*BD needles, one syringe in one box, blister package |
| productividad: | 10000 Piece/Pieces per Week |
| Marca: | TOP-Q |
| transporte: | Air |
| Lugar de origen: | China |
| Capacidad de suministro: | 10000 Piece/Pieces per Week |
| Certificados : | GMP, CE, ISO13485 |
| HS-Code: | 3913900000 |
| Hafen: | Qingdao,Shenzhen |
Descripción del producto
Hyaluronic Acid Filler is becoming a popular choice as a temporary filler for facial augmentation. It is a safe, non-surgical procedure that conveniently softens facial lines and furrows. It also has the added benefit of not requiring skin testing before use. Hyaluronic acid in fillers binds to water in the tissues, providing a smooth, gel-like consistency after injection. New Hi-Tech hyaluronic acid products are now available for the correction of wrinkles. They can easily be injected into the skin, are very stable, and ensure a long-lasting cosmetic result. This new type of hyaluronic acid spreads evenly through the skin, creating a smooth transition between treated and non-treated areas. This anti-wrinkle treatment results in a particularly natural, beautiful appearance. There are five types of products can be choosed-Fine, Derm, Derm Deep,Ultra Deep and Subskin. These five products make it possible to quickly and effectively meet the vast majority of patient's needs for correction and augmentation of wrinkle and folds. As China leading professional manufacturer and supplier of hyaluronic acid filler, dermal filler, hyaluronic acid gel for over 18's years, Hi-Tech has great reputation with superior quality products ,more competitive price and thoughtful customer service.
Features
*Non-animal source hyaluronic acid
*BDDE cross-linked technology ensure uniformity of gel particle
*High safety & Rare side-effects
*Prompt effectiveness & Natural result
*Short recovery period & long duration
Specification
20-30mg/ml
stablized hyaluronic acid

20-30mg/ml
stablized hyaluronic acid

20-30mg/ml
stablized hyaluronic acid

20-30mg/ml
stablized hyaluronic acid

20-30mg/ml
stablized hyaluronic acid

Approximate number of gel particles ml

Thin superficial lines, such as worry lines, periobital lines, perioral lines

Moderate

wrinkls,

such asglabellar, oral commissures. Lips: fullness, pouting and vermilion border

Deep facial wrinkles and folds, like the nasolabial folds, shaping facial contours, eg cheeks fullness, chin and lips augmentation

Large deep wrinkles and folds, it can fill wrinkles that pars cervicalis hands and chests.

Can be used in Breast, Buttock, Hip enhancement

Deep layer of dermis and /or surface layer of subcutis

Deep dermis or subcutaneous tissue shallow

Deep dermis or subcutaneous tissue shallow

50ml, 100ml, 500ml, 1000ml
Details Images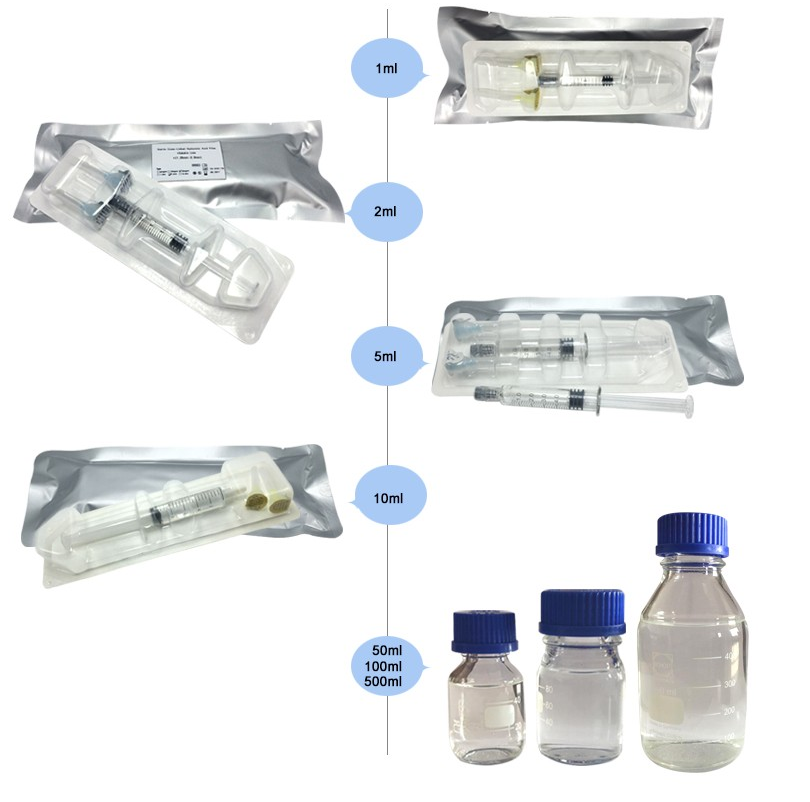 There are diffrent types blister can be choosen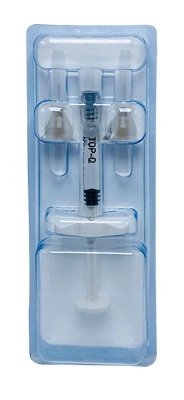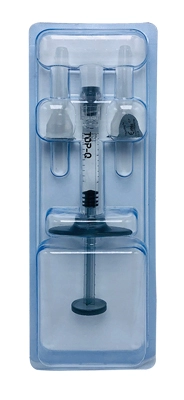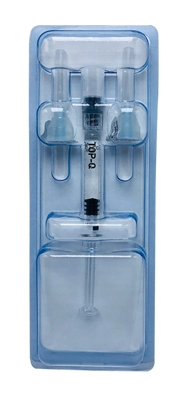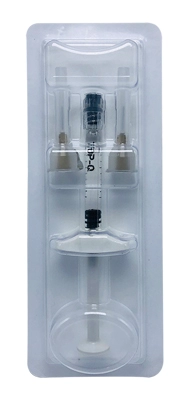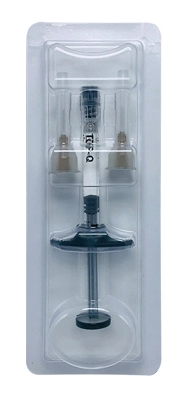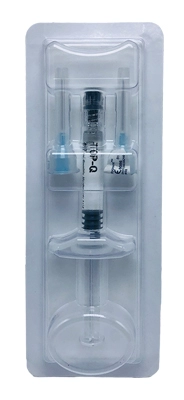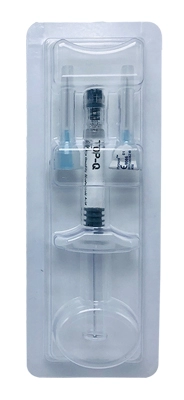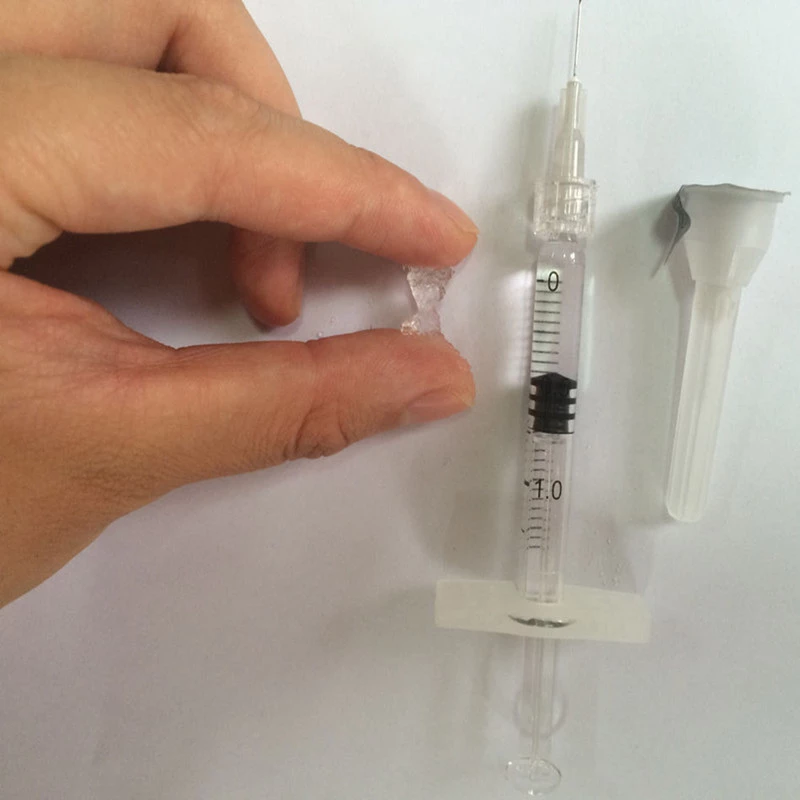 Packaging: One pre-filled BD syringe and two BD needles in a PVC blister with a retail box package Shelf Life: 2 years in Room Temperature Payment terms: Trade Assurance pay on Alibaba, T/T, Western Union, Money Gram, etc Delivery Time: 4-7 working days to worldwide Return Policy: We will return your money if our products have no good effect.

About Us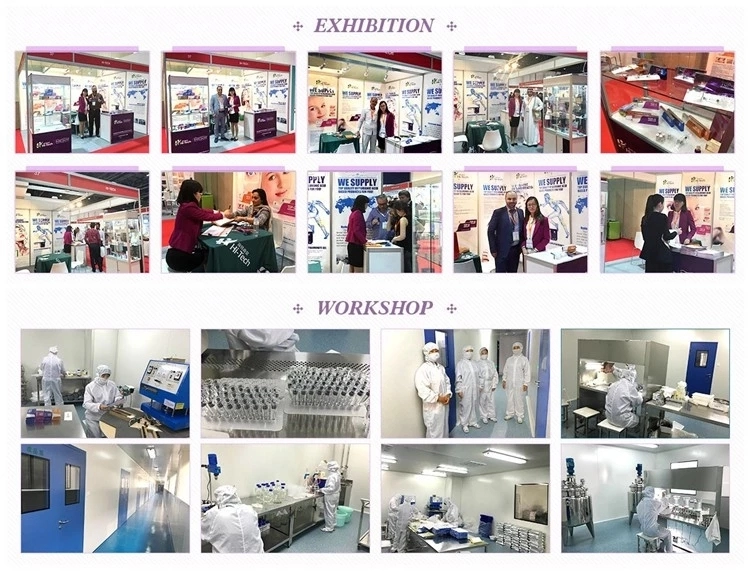 FAQ
Q: Is it safe?
A: There are very few risks linked to treatment with hyaluronic acid gel injection filler, partly because it naturally occurs in body. It is broken down by body. None of it remains in skin and the skin does not suffer any damage.

Q: How long does the effect last?
A: Treatment results will different for each person. In a clinical study, the treatment results lasted for 8 months up to 16months after the first treatment session for most patients. Touch-up treatments can maintain the desired effect.

Q: How long will the treatment session take?
A: It is a very quick and easy process to be treated by hyaluronic acid gel injection filler. As no pro-test needed, the treatment can be carried out immediately. A treatment generally takes 30 minutes.

Q: Does the injection hurt?
A: Most people find the injections relatively painless. They may prick a little. If you like, a topical anaesthetic can be applied to the area being treated prior to your procedure. When enhancing the lips, local anaesthetic injection is often used.

Q: Are there side effects associated with hyaluronic acid gel injection filler treatment?
A: Minor complications can occur, but they are generally light and easy to manage. hyaluronic acid gel injection filler side effects include minor swelling, redness, and perhaps some mild discomfort at the injection sites. Inflammatory reactions may last for up to weeks in rare cases.

Q: Can hyaluronic acid gel injection filler be used if I have had laser treatment or some other plastic surgery?
A: If you have plastic surgery recently,you should wait for your wound or cut to be healed completely.After the skin is healed back to normal condition, you can take hyaluronic acid gel injection filler Treatment.
Qufu Hi-Tech Trading Co., Ltd.
Qufu Hi-Tech Trading Co., Ltd está comprometida con la investigación y el desarrollo, la fabricación, las ventas y la comercialización de productos de la serie de ácido hialurónico, sulfato de condroitina y ácido poli-γ-glutámico de alta calidad y asequibles. La empresa ubicada en Qufu High-Tech Development Zona ----- ciudad natal de Confucio.

Como especialista en la I + D de ácido hialurónico, sulfato de condroitina, ácido poli-γ-glutámico, y otros productos de ácido hialurónico relacionados (inyectable relleno dérmico, médico hialuronato de sodio gel etc) en China, hemos sido el líder mundial en el mercado de materias primas.
Nuestras plantas cumplen con los requisitos de GMP. Contamos con equipos automáticos de fermentación y purificación, sistema de gestión de calidad perfecta y métodos de prueba modernos. Nuestro proceso productivo ya ha alcanzado el sistema de gestión de calidad CE, ISO9001: 2008. Tenemos experiencia y profesores especializados en la investigación de series HA para productos farmacéuticos, de alimentos saludables, cosméticos y de belleza.
Además, ofrecemos a nuestros clientes servicios de etiquetado privado y OEM para crear su propia línea única de productos.
A diferencia del sentido común de la empresa comercial, Hi-Tech está estrechamente relacionado con algunos otros fabricantes competentes. Para fortalecer la capacidad de producción y procesamiento.
Nombre de empresa: Qufu Hi-Tech Trading Co., Ltd.
Representante: Tonggui Wu
Producto / Servicio: Ácido hialurónico , Sulfato de condroitina , Ácido gamma-poli-glutámico , relleno dérmico inyectable , Hialuronato de sodio , gel médico de hialuronato de sodio
Capital (Million US $): 3 Million
Año de fundación: 2014
Facturación Annual: US$2.5 Million - US$5 Million
Porcentaje de exportación: 81% - 90%
Volumen Total de Compras anual (Millones de dólares EE.UU.): Below US$1 Million
Número de Líneas de Producción: 3
Número de empleados para investigación y desarrollo: Fewer than 5 People
Número de empleados para control de calidad: Fewer than 5 People
Servicio del OEM proporcionado: yes
Tamaño de la fábrica (metros cuadrados): 1,000-3,000 square meters
Ubicación de la fábrica: Economic Development Zone, Jining, Shandong, China
Persona de Contacto: Ms. Chris
Número de Teléfono: 86-537-4483567